Whit is a seasoned team leader, start-up entrepreneur, and consultant with extensive global operating experience. Able to drive innovative results, manage complex initiatives, build partnerships, and unite high-performance teams across cultures, disciplines, and levels.
Whit is the Founder and Managing Partner of Burro Brand Ghana Ltd, a company focused on delivering productivity enhancing tools to rural folks in Ghana to empower them to do more and earn more. In 1997, Whit Co-founded Cranium, an award winning board game that was sold at $77 million.
As an adviser to Tieme Ndo, Whit brings decades of startup, product development, business development, commercialization, and African operating experience to the team.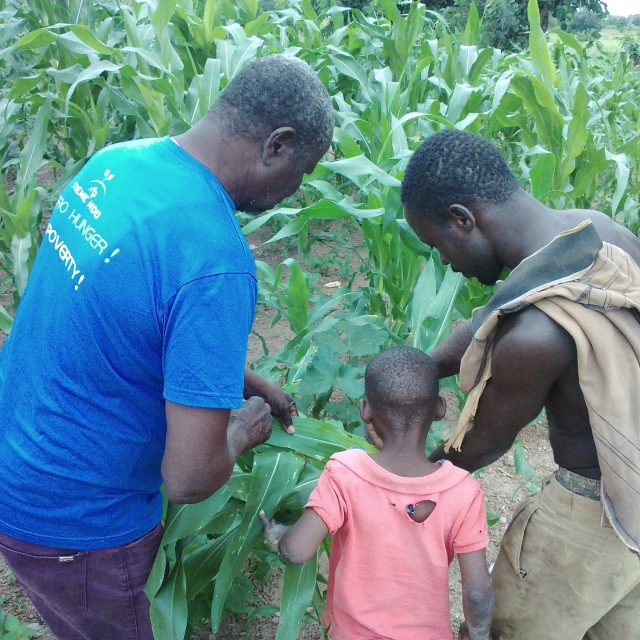 Mr Severo Lanuzie
Extension Officer and Farmer Cooperatives Manager
Mr Severo is a retired agricultural extension officer. He has over 20 years experience in field extension, farmer groups formation and sensitization. At Tieme Ndo, he creates and manages all farmer groups to empower farmers to consistently increase their crop productivity, earn more income, end food insecurity and become financially independent.
Justin holds a bachelor's degree in Accounting Education from the University of Education, Winneba. Justin believes in change through leadership. While in school, he participated in various leadership seminars to enhance his leadership skills. In 2016, he became the President for the International Movement of Catholic Students (IMCS) Pax Romana, UEW-Kumasi Local, where he coordinates the activities of the various subgroups under Pax Romana.
After graduation, Justin completed his mandatory national service with the Ghana Health Service, Dormaa Municipal Health Directorate Accounts Unit as an accounts officer. While doing his service, he was elected as the Financial Secretary of the National Service Personnel Association Dormaa Central Municipality for the 2018/2019 service year. In his capacity, he spearheaded the fundraising effort of the team to mobilize over GHC700 to be donated to people in need. Justin is passionate about youth empowerment and teaching people especially the poor on financial literacy.
At Tieme Ndo, Justin brings in new ideas and experience to restructure the finance department, manage our credit portfolio and to train our farmers on financial literacy.
Dr Julius H. Kotir is an adviser to Tieme Ndo. He holds a PhD (from the University of Queensland, Australia), MRes (from King's College London, UK), MA (from the University of Westminster, UK) and BA (from the University of Ghana). Dr Kotir is currently a Postdoctoral Fellow within the Agriculture and Food Business Unit of the Commonwealth Scientific and Industrial Research Organisation (CSIRO), Australia. His current research and expertise are focused understanding climatic change, water resources management and farm socio-economics, and the interplay between these, and informing policies and strategies that improve agricultural productivity and efficiency to achieve sustainable development outcomes. To accomplish this, he applies systems analysis tools, such as system dynamics, whole-farm bio-economic models, scenario analysis, and participatory engagement tools to better support decision making at the paddock, farm and catchment scales in Australia and Sub-Saharan Africa. Dr Kotir has studied, worked and lived in Ghana, UK and Australia, which has helped him to develop collaborative working experience with people from diverse cultural and social backgrounds. At Tieme Ndo, Dr Kotir provides advice on all strategic, science and research matters. Dr Kotir is an Associate Fellow (AFHEA) of the Higher Education Academy, UK, System Dynamic Society (USA), and an Associate Member of the Institute of Environmental Management Assessment (IEMA), UK.
Sihle Magagula is a MasterCard Foundation alumni and recent graduate of Ashesi University (Ghana) where he studied a Bachelor of Science degree in Computer Science. Sihle's background in agriculture has been instrumental in structuring programs for farmers and procuring agricultural inputs like fertilizer. In 2016, he got selected as one of the 1000 fellows who were recruited into the Tony Elumelu Entrepreneurship Program, an annual entrepreneurship program that offers mentorship and seed funding. Sihle has a lot of experience in international presentations (via participation in the One Young World Summit, 2018; in Hague, The Netherlands, and a 2016 summer internship in Arizona State University), research, agriculture. He also worked and lived in multiple countries including South Africa and USA. While Sihle has a day job as a Systems Developer with the Central Bank of Eswatini, he remains committed to Tieme Ndo and continues to spearhead communications and fundraising efforts. Sihle hopes his computer science background will benefit Tieme Ndo should the adoption of climate-smart agriculture, especially remote sensing techniques, become critical for our cohort of farmers.
Moses Yangnemenga – 
Director of Operations
Moses is an experienced farmer and a social entrepreneur known for driving results, a "can do" mindset, and insightful perspectives that shape new projects. Moses holds a BSc. degree in business administration from Ashesi University. He is an alumnus of the MasterCard Foundation Scholars Program. In 2018, Moses worked with Burro Brand Ghana Ltd as a business development trainee where he led a team of students from Stanford and Oregon State University to research and develop affordable cookware and shea collecting tool for rural farmers. In 2019, Moses became one of the winners of the CEMEX-TEC Award in the Social Entrepreneurs Category. Moses is passionate about accelerating the adoption of innovative poverty-alleviating products, by the people at the bottom of the pyramid.