Whit is a seasoned team leader, start-up entrepreneur, and consultant with extensive global operating experience. Able to drive innovative results, manage complex initiatives, build partnerships, and unite high-performance teams across cultures, disciplines, and levels.
Whit is the Founder and Managing Partner of Burro Brand Ghana Ltd, a company focused on delivering productivity enhancing tools to rural folks in Ghana to empower them to do more and earn more. In 1997, Whit Co-founded Cranium, an award winning board game that was sold at $77 million.
As an adviser to Tieme Ndo, Whit brings decades of startup, product development, business development, commercialization, and African operating experience to the team.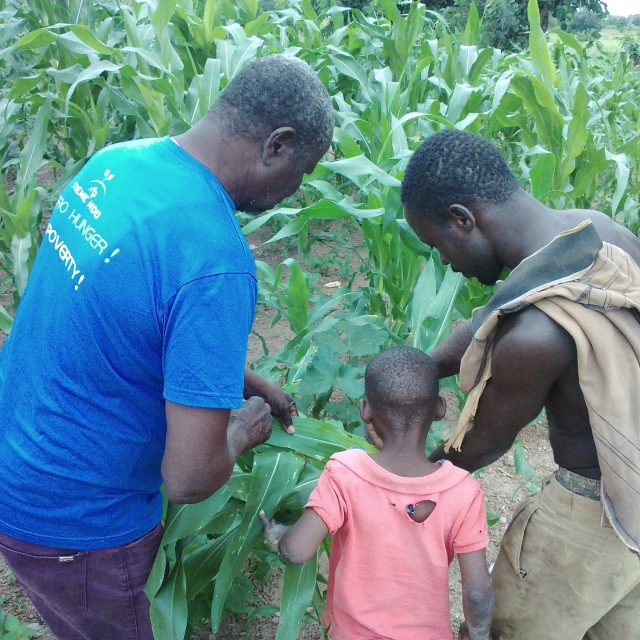 Mr Severo Lanuzie
Extension Officer and Farmer Cooperatives Manager
Mr Severo is a retired agricultural extension officer. He has over 20 years experience in field extension, farmer groups formation and sensitization. At Tieme Ndo, he creates and manages all farmer groups to empower farmers to consistently increase their crop productivity, earn more income, end food insecurity and become financially independent.
Justin holds a bachelor's degree in Accounting Education from the University of Education, Winneba. Justin believes in change through leadership. While in school, he participated in various leadership seminars to enhance his leadership skills. In 2016, he became the President for the International Movement of Catholic Students (IMCS) Pax Romana, UEW-Kumasi Local, where he coordinates the activities of the various subgroups under Pax Romana.
After graduation, Justin completed his mandatory national service with the Ghana Health Service, Dormaa Municipal Health Directorate Accounts Unit as an accounts officer. While doing his service, he was elected as the Financial Secretary of the National Service Personnel Association Dormaa Central Municipality for the 2018/2019 service year. In his capacity, he spearheaded the fundraising effort of the team to mobilize over GHC700 to be donated to people in need. Justin is passionate about youth empowerment and teaching people especially the poor on financial literacy.
At Tieme Ndo, Justin brings in new ideas and experience to restructure the finance department, manage our credit portfolio and to train our farmers on financial literacy.
Dr Julius H. Kotir is an adviser to Tieme Ndo. He holds a PhD (from the University of Queensland, Australia), MRes (from King's College London, UK), MA (from the University of Westminster, UK) and BA (from the University of Ghana). Dr Kotir is currently a Postdoctoral Fellow within the Agriculture and Food Business Unit of the Commonwealth Scientific and Industrial Research Organisation (CSIRO), Australia. His current research and expertise are focused understanding climatic change, water resources management and farm socio-economics, and the interplay between these, and informing policies and strategies that improve agricultural productivity and efficiency to achieve sustainable development outcomes. To accomplish this, he applies systems analysis tools, such as system dynamics, whole-farm bio-economic models, scenario analysis, and participatory engagement tools to better support decision making at the paddock, farm and catchment scales in Australia and Sub-Saharan Africa. Dr Kotir has studied, worked and lived in Ghana, UK and Australia, which has helped him to develop collaborative working experience with people from diverse cultural and social backgrounds. At Tieme Ndo, Dr Kotir provides advice on all strategic, science and research matters. Dr Kotir is an Associate Fellow (AFHEA) of the Higher Education Academy, UK, System Dynamic Society (USA), and an Associate Member of the Institute of Environmental Management Assessment (IEMA), UK.
Sihle, originally a Swazi has been in Ghana for FOUR years. Though a computer science student at Ashesi University in Ghana, Sihle's background has always been agriculture. Growing up in the rural parts of Swaziland, Sihle saw agriculture transforming his community through sugarcane commercial farming. This affirmed Sihle's belief in the potential agriculture has very early in life. With all of Sihle's family being vested in agriculture in one way or the other, Sihle did agriculture from primary school to high school where he did an agricultural field research in his final project in high school. With this background, Sihle brings to Tieme Ndo a new perspective that will broaden operations and consultation. With him, Sihle also brings into the team a lot of entrepreneurial experience. In 2016, he got selected as one of the 1000 fellows who were recruited into the Tony Elumelu Entrepreneurship Program, an annually entrepreneurship program that offers mentorship and seed funding. Sihle has a lot of experience in international presentations (via participation in the the One Young World Summit, 2018; in Hague, The Netherlands and a 2016 summer internship in Arizona State University), research, agriculture. He also worked and lived in multiple countries including South Africa and USA. Sihle brings to Tieme Ndo skills in research, communication (written and oral), problem solving etc. 
Moses is a social entrepreneur, farmer and student. He holds a degree (BSc Business Administration) from Ashesi University and an alumni of the MasterCard Foundation Scholars Program at Ashesi University. Moses is currently doing his National Service at Burro Brand Ghana Ltd as a Business Development Trainee, where he drives research to launch hit products and facilitate the launch of the Burro brand in new markets. In his senior year (2018) at Ashesi, Moses co-founded "Meat Empire" with his roommate to supply grilled meat, fresh meat and livestock to students and meat lovers in Ghana. Moses also served as the President of the Ashesi Football Association from 2016-2017, leading an executive team of six to plan and organize the Ashesi Premier League (APL) games between student clubs and inter-universities. For the first time, the APL got featured online by "myjoyonline", a highly trusted online news channel in Ghana. In 2015, Moses founded Catalyst Change Initiative with a USD 1,000 grant from Ford Foundation in partnership with Ashesi University to assist high school and senior high school students in his community to identify their innate talents so they could make good educational choices. 
Growing up, Moses has witnessed how his parents worked so hard on their farms but yields increasingly become lower every year. Because, like most farmers in Africa, his parents did not have the capital to pay upfront for improved seeds and fertilizers at the time they needed it most. Now, as founder and director of operation at Tieme Ndo, Moses vision is to see all smallholder farmers become financially independent by empowering them to double their crop yields and income annually.
At Tieme Ndo, Moses brings over 10years of farming experience, acquired since childhood. With skills in organizing, research, social entrepreneurship, business development, supply chain management, operation management etc., Moses oversee the day to day's activities of the organisation.