Kevin is an innovative global team leader with proven ability to bring technology products from concept to market to volume production. Analytical thinker, able to quickly assess strengths and weaknesses in an organization; always willing to push against inertia to create meaningful change. Passionate mentor inside my organization and in external social ventures. Excellent communication and presentation skills. Highly effective in developing stakeholder partnerships. Kevin is currently the Director of Business Development at Santa Clara University, Miller Center for Social Entrepreneurship.
Jude is a farmer with a great wealth of knowledge about agriculture in Ghana and around the world. He currently works at Ashesi University as the Manage, Outreach and Experiential Learning Programs, where he helps students research and launch their own community engagement projects. He holds a bachelor of science degree in political science from the university of Ghana.
Maria is an enthusiastic young woman passionate about rural development and youth empowerment. She holds a Masters of Philosophy in Industrial and Organizational Psychology from the University of Ghana and a diploma in Human Resource Management, Marketing, Strategic Management and Customer Care from the Institute of Commercial Management, UK. Maria currently lectures Psychology at the School of Continuing and Distance Education, University of Ghana, Legon, Wa Centre. Maria has skills and experience in mentorship, building startups, managerial and administrative skills, business development and entrepreneurship. 
Tom-Chris is the Founder & President of Stars From All Nations, an EduTech company that has raised $0.25M to help young people build their dream companies and careers. Tom-Chris has spent the last 7+ years of his professional career creating innovative change across organizations and communities, including working with several global entrepreneurs and executives to fuel innovation at the intersection of technology and social impact, while educating +15K students about the path to gainful employment. He has also written over 150 thought leadership articles, some of which got the attention of influential entrepreneurs such as Jean Case, Ariana Huffington, Tony Elumelu, and Strive Masiyiwa, to mention a few. His work has been featured in Forbes, DW, Business Insider, SABC, Next Billion, and other publications. Tom-Chris expertise is in business development, market entry studies, program design, digital marketing, recruitment, social entrepreneurship, sales, growth hacking, design thinking, brand consulting, and SEO content writing.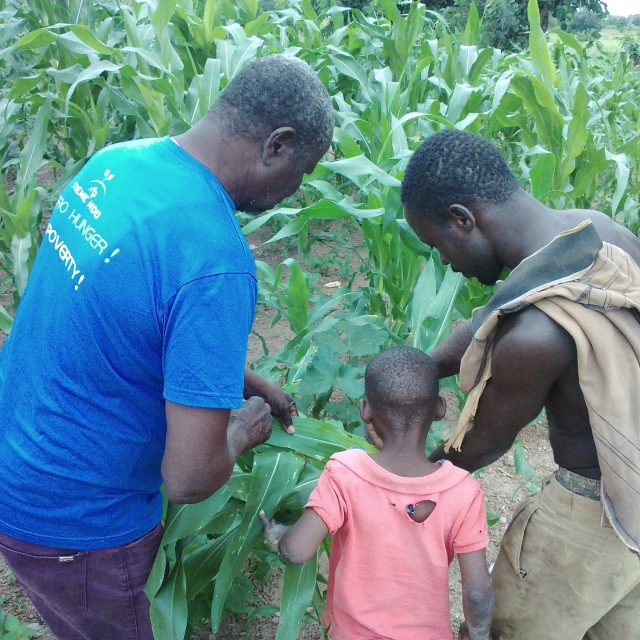 Mr Severo Lanuzie
Extension Officer and Farmer Cooperatives Manager
Mr Severo is a retired agricultural extension officer. He has over 20 years experience in field extension, farmer groups formation and sensitization. At Tieme Ndo, he creates and manages all farmer groups to empower farmers to consistently increase their crop productivity, earn more income, end food insecurity and become financially independent.
Justin holds a bachelor's degree in Accounting Education from the University of Education, Winneba. Justin believes in change through leadership. While in school, he participated in various leadership seminars to enhance his leadership skills. In 2016, he became the President for the International Movement of Catholic Students (IMCS) Pax Romana, UEW-Kumasi Local, where he coordinates the activities of the various subgroups under Pax Romana.
After graduation, Justin completed his mandatory national service with the Ghana Health Service, Dormaa Municipal Health Directorate Accounts Unit as an accounts officer. While doing his service, he was elected as the Financial Secretary of the National Service Personnel Association Dormaa Central Municipality for the 2018/2019 service year. In his capacity, he spearheaded the fundraising effort of the team to mobilize over GHC700 to be donated to people in need. Justin is passionate about youth empowerment and teaching people especially the poor on financial literacy.
At Tieme Ndo, Justin brings in new ideas and experience to restructure the finance department, manage our credit portfolio and to train our farmers on financial literacy.
Sihle Magagula is a MasterCard Foundation alumni and recent graduate of Ashesi University (Ghana) where he studied a Bachelor of Science degree in Computer Science. Sihle's background in agriculture has been instrumental in structuring programs for farmers and procuring agricultural inputs like fertilizer. In 2016, he got selected as one of the 1000 fellows who were recruited into the Tony Elumelu Entrepreneurship Program, an annual entrepreneurship program that offers mentorship and seed funding. Sihle has a lot of experience in international presentations (via participation in the One Young World Summit, 2018; in Hague, The Netherlands, and a 2016 summer internship in Arizona State University), research, agriculture. He also worked and lived in multiple countries including South Africa and USA. While Sihle has a day job as a Systems Developer with the Central Bank of Eswatini, he remains committed to Tieme Ndo and continues to spearhead communications and fundraising efforts. Sihle hopes his computer science background will benefit Tieme Ndo should the adoption of climate-smart agriculture, especially remote sensing techniques, become critical for our cohort of farmers.
Moses Yangnemenga – 
Director of Operations
Moses is an experienced farmer and a social entrepreneur known for driving results, a "can do" mindset, and insightful perspectives that shape new projects. Moses holds a BSc. degree in business administration from Ashesi University. He is an alumnus of the MasterCard Foundation Scholars Program. In 2018, Moses worked with Burro Brand Ghana Ltd as a business development trainee where he led a team of students from Stanford and Oregon State University to research and develop affordable cookware and shea collecting tool for rural farmers. In 2019, Moses became one of the winners of the CEMEX-TEC Award in the Social Entrepreneurs Category. Moses is passionate about accelerating the adoption of innovative poverty-alleviating products, by the people at the bottom of the pyramid.