In early June 2018 one of Tieme Ndo's co-founders, Sihle Magagula, was selected to represent Swaziland and Tieme Ndo in the upcoming One Young World Summit which is to be held in The Prague, Netherlands. Sihle will be joining over 1400 other young leaders from 196 countries who together will be seeking solutions to the world's most pressing problems. The Summit will be held between 17 and 20 October 2018.

Sihle (Left) and Moses
One Young World is a UK based not-for-profit organization founded in 2009. The organization gathers young leaders from around the globe to develop solutions to the world's most pressing problems. Last years' summit was held in Ottawa, Canada and in attendance was the Canadian Prime Minister, Justin Trudeau. Kofi Annan, Emma Watson, Professor Muhammad Yunus, Archbishop Emeritus Desmond Tutu, Jack Dorsey and Sir Bob Geldof are among some of the notable people who have attended previous gatherings.
Sihle will be attending the Summit through the All Bar None, a scholarship that is designed to ensure that outstanding young people from every country in the world are represented at the One Young World Summit. It is through the impact of Tieme Ndo that Sihle has been awarded this scholarship. Tieme Ndo has impacted more than 400 rural farmers and their families in northern Ghana through asset loaning of farm inputs like fertilizers and treated seeds, teaching farmers best farming practices and business skills. The mission of Tieme Ndo is to boost crop yields and income among rural farmers.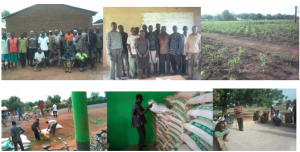 "I am glad I will be meeting other young people who are doing great out there and I think that will be a humbling experience for me," Sihle said, commenting on his selection to attend the Summit. Speaking of his aspirations for the Summit, "It will be a great platform to network and I hope to share as much as I can about Tieme Ndo and hopefully I will get enough people interested both investors and supporters," Sihle added.
This goes without saying that Tieme Ndo needs such events for publicity. Tieme Ndo was founded in 2016 by two Ashesi students, Sihle Magagula and Moses Yangnemenga. It ran its pilot program in 2017 through a grant from Distribution Prize. During its existence, it has been represented in few events like Ghana Youth Social Entrepreneurship, a competition organized by GhanaThink Foundation and Digital Opportunity Trust. The One Young World Summit will be the biggest event so far for Tieme Ndo to be represented in.